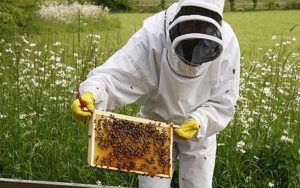 WBRC Fox 6 News on Your Side in Nashville, TN recently did a segment titled  "Dying Bees Could Mean Fewer Fruits and Vegetables" about the benefits of bees for our food sources and how bees are dying, putting some of our favorite foods at risk.
When I read an article like this, it causes me to bring it home and ask the question, "how does this affect my community, my family, my little place on this planet?"
We have an interest in beekeeping at our house.   Benny currently has five hives and has been harvesting honey this week.
We would love to know how many beekeepers we have in the Samantha area. If you or someone you know has bee hives, would you please email that information to us at [email protected] or comment below.  Also let us know how many hives you have and what services  you offer, if any, such as bee removal.  We tried to research it but the information was scattered, incorrect and outdated.
———————————–
Always keep "The Son" in your eyes.
Becky Williamson-Martin
(205) 233-3794