Six degrees of separation is the idea that all people are six or fewer social connections away from each other. As a result, a chain of "friend of a friend" statements can be made to connect any two people in a maximum of six steps. It is also known as the six handshakes rule. This story about Mrs. Maxine's recipe for Iron Skillet Cake might be a good example.
My son, Shane, married Mrs. Maxine Norris' granddaughter, Misty, 24 years ago. A few years ago he was telling me about how much he liked Mrs. Maxine's Iron Skillet cake and that's what he wanted for his birthday. Misty got the recipe for me and I made it and it was delicious!
Fast forward. We have potluck at my church every Wednesday night and I'm always trying to think of different things to cook. I love the good, tried and true "old" family dishes that have been passed down through the generations. I remembered Mrs. Maxine's Iron Skillet Cake and flipped through my binder that holds all my favorite hand-written recipes to find it.
It was such a hit among the Wednesday night church crowd that I barely took home a crumb and folks were running me down as I was going out the door wanting the recipe. So, now the church ladies are going to make it for their families who will hopefully share the recipe and it will be passed down to their children and grandchildren. Although I didn't really know Mrs. Maxine, I think it is so wonderful how we are connected – and a little bit of Mrs. Maxine's memory lives on. Once again, food, has connected us. 🙂 Remember, Jesus broke bread with his disciples? So, there is a really good reason for it, right?
Mrs. Maxine passed away eleven years ago and we are talking about her. Thank you Mrs. Maxine for sharing your family with mine and for sharing your legacy with us all. Her sweet obituary stated that she was a true example of Proverbs 31. And I believe she was too.
Always keep "The Son" in your eyes!
Mrs. Maxine's Iron Skillet Cake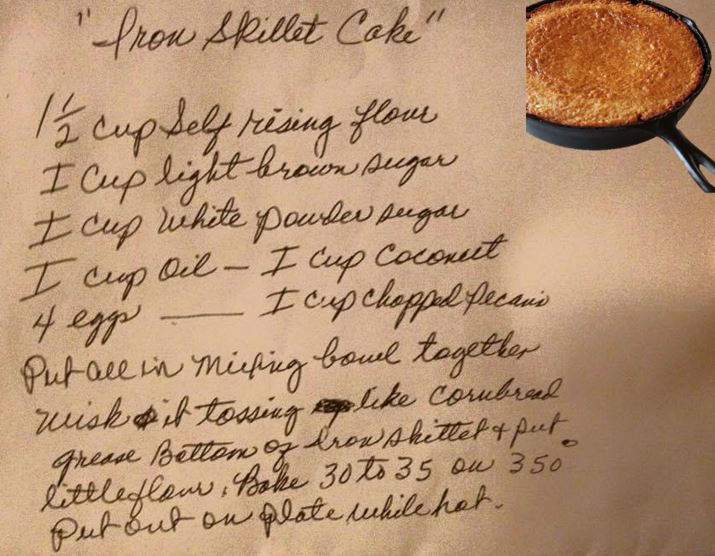 ____________________________________________________________________
For more family connections I have posted her obituary below :
"SAMANTHA Maxine Dobbs Norris of Samantha died March 13, 2012… Burial … Nazareth Primitive Baptist Church Cemetery…
She was preceded in death by her husband, Wilson Norris; her parents, Eddie Brondle and Celia Dobbs; and her brother, Julian Dobbs.
Survivors include her children, Sheila Watkins (Lynn), Emery Norris (Becky), Gail Willis (Billy), and Sharon Wells (Gary); her grandchildren, Chad Watkins (Jennifer), Ginger Roberts (Jamie), Leo Watkins, Kobe Watkins, Jeff Norris (Kelly), Misty Smith (Shane), Lance Willis (Darlene), and Tyler Wells; 10 great-grandchildren; her brothers, Buford (Sally), Solon (Vera), W.D., and Raiford Dobbs; her sisters, Loyal Farley, Christine Wiggins (Dan), Betty Stival, and Joan Turner (Dan); her sister-in-law, Mable Elliott; and several nieces and nephews.
Our mother was a true example of Proverbs 31, a gift to her family as well as others. She never met a stranger.
We add special thanks to our wonderful caregivers, Gladys Donaldson, Kathy Renfroe, Terry Bynum, and Julie Nicholson for becoming like family in their care of mother."
Always keep "The Son" in your eyes!
.